This book by author Jerry Toner, released on Polity Press in 2009, aims to give a short, general study of Roman culture among the non-elites of the Roman world. As a concept for a book, this seems both promising and a little risky – history does tend to focus on wealthy and powerful groups and individuals so shining a little on the rest of society is usually fascinating; however fitting all of this into a mere two hundred pages or so would never be an easy task – with the broad scope of "popular culture" to choose from, roughly one thousand years of history, and a huge geographical expanse.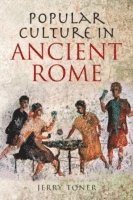 For a start, what exactly is popular culture – how would I try describing the popular culture of the UK in 2014 to someone from an alien time and place? I probably wouldn't divide it into sections with unpromising and rather dour labels like 'Problem Solving' and 'Mental Health' but that is what Jerry Toner has done with this book. I was initially quite wary of these titles – What kind of twisted society did these people have? Why are we not covering entertainment or sport? – but quickly they were revealed to be much more general that they first appeared.
The first of these "Management for Dummies" style titles is Problem Solving and it kicks off with an explanation of risk and the Roman economy. This may seem like an odd start to the book but to understand the world of the average Roman, it is important to understand the factors and thinking that drove them in their day to day life. It was a difficult, hard life – incomes were unstable, debt was common, food could be scarce, and mortality rates were high. People tended to use certain techniques and knowledge to reduce the risks they faced, and these methods are apparent in their proverbs and fables. Society as a whole was held to its set of values by informal gossiping and policing from within – the author quotes graffiti that publicly shames men for thieving or for cheating on their wife. People would look for solutions in religion and magic or through advice from oracles. There are some wonderful anecdotes here, it turns out the Romans had a fairly decent sense of humour at times: one traveller asked a prophet about how his family were keeping and was assured that they were all well, especially his father.* He remarked that his father had been dead for ten years, only to be told that the prophet had meant his real father.
The next chapter is focused on Mental Health. Again, this is a little more than it first appears – the chapter starts with the diagnosis of an early Christian monk as schizophrenic. The author considers how we can look at Roman society through the eyes of modern mental health and how health and stress would have expressed itself in that society. Looking at these outlets for expression then feeds into the next chapter on popular entertainment and the final one on popular resistance – how would behaviour that was out of the ordinary be interpreted? What ways did people find ways to break out and dissent, and on the other side of the coin, how would popular culture have been used to keep people in their place. Sandwiched in between these chapters is a section on the common sights and sounds of the world, and how these senses played an important role on the place of individuals in society. These may all be serious topics but they are never dry; the author keeps moving, interspersing statistics and probability calculations with amusing graffiti and lewd art.
Although this is written for a popular audience, it's maybe not a book for a beginner – anyone wanting an introduction to the Roman world should start elsewhere (I rather like Tom Holland's Rubicon or Robin Lane Fox's Classical World). But for those that are already familiar with the time, it provides an interesting investigation into the factors and culture driving people in the ancient world. Though it is packed full of anecdotes and statistics, it is also quite a general book and the wide timespan of the book and the diverse regions it covers do perhaps leave some contradictions. In summary – despite possibly covering too broad a scope, it gives a fascinating and frequency very entertaining look at Roman society, I would definitely recommend this book.
I do have another book by the author on Roman Disasters sitting in my pile, and I may cover it in a future blog post.
* Quite topical, given the review of Sally Morgan that is going round at the minute. http://mylespower.co.uk/2014/05/18/a-rather-embarrassing-night-for-psychic-sally-in-middlesbrough/