The quote on the front of the book says "If you only have time to read one book on the great man, you should make it this one".  I wouldn't entirely agree with that.  David Horspool's book is largely a critical review of the myths and legends about King Alfred.  It doesn't give a chronological narrative of Alfred's life; there's none of the the colour and myths and grandeur with which he often appears – but it is none the worse for it.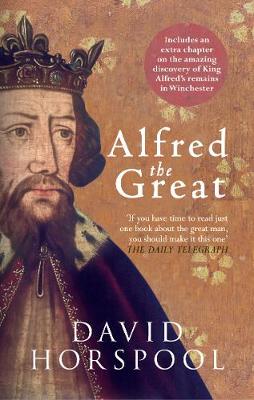 The real historical evidence and the growth of the legend are covered, and with some wit.  There's a memorable phrase where Horspool describes the Victorian ideal of Alfred as a "Anglo Saxon head boy king".  There is great detail on contemporary sources like Bishop Asser; on Matthew Parker, the Tudor archbishop who used the myth to boost the newly independent Church of England; and on later romantic portrayals in painting and theatre, all the way up to Bernard Cornwell's Last Kingdom and the 1969 epic film starring David Hemmings, Michael York and Ian McKellan.
He doesn't, however, overcompensate for all this fiction.  Alfred's real world achievements and character (what we know of it) are discussed appreciatively.  In the new edition, a brief chapter on the discovery of King Alfred's bones (or one of them anyway … possibly) rounds everything off nicely.
To go back to the Daily Telegraph quote with which I started this post, the problem is that David Horspool does not actually tells the myths and the stories that he dissects throughout the book.  I would definitely recommend this, if you are already familiar with the fiction and fantasy that surrounds Alfred.  However, I'm not sure how useful it would be if you didn't grow up reading the Ladybird book of Kings and Queens.